Overview
Choose safer, effective
COVID disinfectants
The Environmental Protection Agency created a list of disinfectants ("List N") that kill the virus that causes COVID‑19. Yet many disinfectants carry an increased health risk, especially to respiratory systems. This website helps you easily find the safer disinfectants from the list. Filter the list for every Surface Type and Use Site.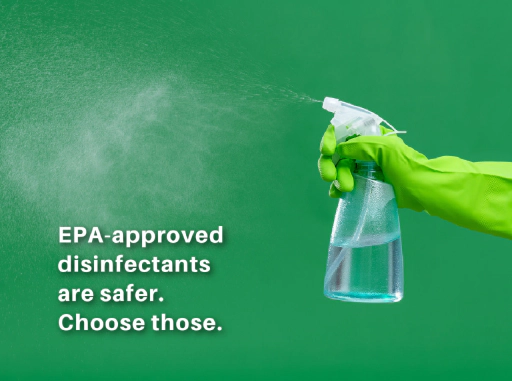 Are the disinfectants you're using Safer or Riskier?
Explore the List
Introduction
The disinfectant list includes disinfectants for use on inanimate objects such as countertops and fabrics. Our list shares the same content as "List N" on the EPA website. We additionally assessed each disinfectant for risk level of the active ingredients (and offer a somewhat more sophisticated interface).
Visit the List
How To Use
You can just scroll down and read the list of disinfectants, but we also offer additional ways to interact with the list.
Search
Sort
Filter
Make Charts
API for Web Developers
How to Use the List
"Use Sites"
The list includes disinfectants applied in up to three Use Sites.
Institutional
Healthcare
Residential
Note (sadly) that even for disinfectants approved for Healthcare use, most have increased risk.
View Healthcare Disinfectants
Connect
Safer Disinfectants is a project of the Maryland Pesticide Education Network.
Join Us
Share
We seek your stories—and songs, and poems, and encouraging materials about switching to safer disinfectants.
Share your Stories