"Safer Disinfectants" List Documentation
How to Use the List
Canned queries will help to sort, filter and chart.
Beginner
Find (Search)
"List N" includes disinfectants used on non-porous surfaces like countertops; porous surfaces like fabrics; and on surfaces that touch food. Our list shares the same content as "List N" on the EPA website. We simply assessed each disinfectant for safer or increased-risk ingredients (and made a somewhat more sophisticated interface).
Use your browser's Find command to search the list. For instance: Find your own disinfectant's EPA registration number. If the number has three parts, search only for the first two: 123456-78. (Of course, you may discover some disinfectants that are not on the list.)
Note that "List N" contains a sample brand name for a given disinfectant registration number. Your brand may be different, but if your EPA Reg. No. matches the List's EPA_reg_num, it means that the Active Ingredients are the same, and the same Safer or "Increased risk" designation applies.
Visit the List
Beginner
Sort by Column
Our List enables minimal sorting: just one field at a time.
Click on a table field name to sort by that field.
Click again to do a reverse sort.
The triangle points up or down to signal sort direction.
Note that the URL adds a parameter to signal which field is being sorted. For instance: _sort=Company


Sort by Company
Intermediate
Filters
Part of the real power of our list comes from using filters. This canned query filters for Safer disinfectants used in Healthcare.
Our sample query opens a summary of three fields and filters by the first two.
In the Risk_level field we filter for "Safer." In the Use_site field we filter for "Healthcare."
Surface_type isn't filtered, but by adding this field we get a nice report counting each surface type within the Safer Healthcare disinfectants. You could further click on a value: Try viewing Safer disinfectants used in Healthcare on Hard Nonporous surfaces.
Safer Disinfectants for Healthcare
Intermediate
Charts
This canned query makes a chart of Safer and Increased-Risk products.
Look for a little white circle on the top right of the chart. On mouseover it offers the option to save as a PNG or JPG.
If you want to "nerd out" on charting, you could also open the chart in a tool called the Vega Editor. After mousing over the little white circle, press Run and experiment with different themes. We don't think this level of experimentation yields much, but if you find otherwise, let us know.
To close the chart, click "Clear Chart."
Safer and Increased-Risk Products
Connect
Safer Disinfectants is a project of the Maryland Pesticide Education Network.
We invite you to link your website to SaferDisinfectants.org
Please join our mailing list.
Join Us
Advanced
More Filters
Some interesting details emerge when using filters.
We apply the Increased Risk designation to a disinfectant when at least one active ingredient is increased-risk. For instance, SpectraKill-RTU contains hydrogen peroxide (Safer), but also quaternary ammonium (Increased Risk), making this an "Increased Risk" disinfectant. As a result: if you select Increased Risk in the Risk_level field, some Safer ingredients may still display in the Active_ingredients field. But if you choose Safer in the Risk_level filter, all the items in the Active_ingredients filter will be Safer. You'll get a better sense of this as you explore the List with filters.
Our FAQs include the lists of Safer and Increased-Risk active ingredients.
We offer a few additional default fields with a single click. To add a field that is not displayed by default, click on the gear next to the table header, and choose "Facet by this."
To find the Safer laundry disinfectant that is used in Institutional, Healthcare, and Residential use sites, select all three from the Use_site filters. In our canned example, we also add a Company filter.
Each filter displays up to 35 items by default. You may replace the question mark in the URL with ?_facet_size=X& where X is a number, for instance: ?_facet_size=160&
Laundry Disinfectants for All Use Sites
Advanced
Use our API
At the top of our home page you can see summary statistics (Total count on the list, Safer count, Increased Risk count, and Percentages) that update when EPA updates List N. If you are a developer who wants to use our Application Programming Interface (API) to include similar statistics on your website, please contact Marjorie Roswell, MPEN Volunteer, who may be able to provide assistance.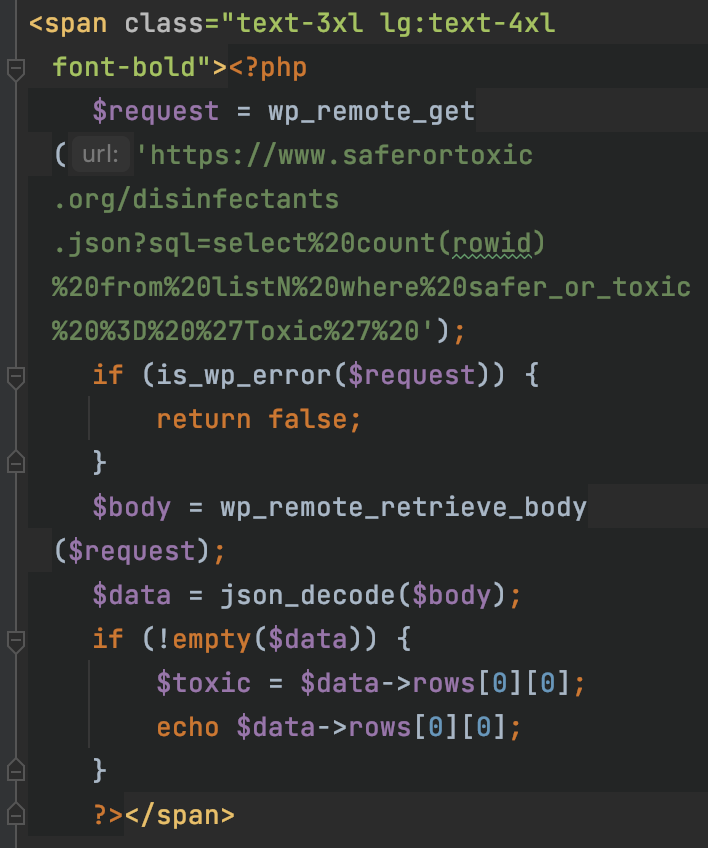 Request API Support